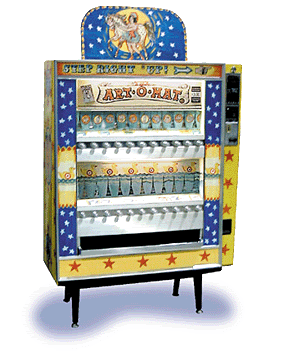 Kentucky Art*O*Mat Machine
designed by Laurie Russell


First up, a shout out to For Crumb's Sake, my esteemed roommate's blog. Tim blogs about indie music, hipster culture, local politics, and self-drawn comics starring anthropomorphic turtles. Tim claims that For Crumb's Sake is "
1 & 1/8 more fun than a shovel museum," but I've been in shovel museums, and I think he's underestimating their ability to entertain and, might I add, to educate. I'd put the ratio at closer to 1.09:1, myself.
I don't know much about David Normal, but "The Bicycle Ride", his short animation paying tribute to
the very first acid trip
, is hilarious, disturbing, and about as close to an authentic bad trip as you're going to get short of renting "Faces of Death 8" and dropping a postage-stamp-sized tab of blotter.
Art*O*Mat
is a clever public-installation\kitsch-art\commentary on our culture of instant gratification, comprised of a group of artists who obtain dozens of old cigarette machines, modify them to distribute small works of art rather than cancer sticks, and then re-distribute them in art galleries, public libraries, coffeeshops, and museums. You can check
this list
to see if there's an Art*O*Mat near you - sadly, the closest one to me is in Tacoma, and I
NEVER
go to Tacoma. But maybe I'll have to start, now.