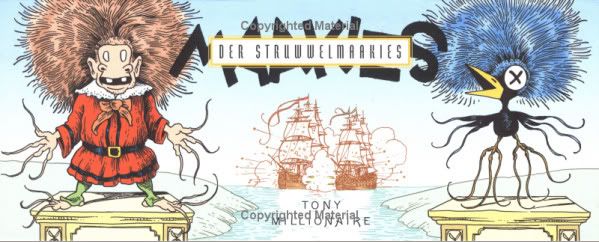 . Tony Millionaire,
comique artiste extraordinaire
, has just released
Der Strewwelmaakies
, his third Maakies collection (and the followup to
When We Were Maakies
and
The House at Maakies Corner
.) If you've never opened your town's local independent-press news-rag and have thus deprived yourself of the chance to experience that which is Maakies, you could do worse than to pick up a copy. Unless you have an aversion to drunkenness, bodily excretions and the nautical life, that is.
. Electric Tiki is releasing a
limited-edition 3-D sculpture
(a full dimension higher than the two you are currently experiencing reading this!) of
Ragnar
's "
The Maltese Chimp
" - in four delicious flavours, no less. There's nothing like a drunk monkey harrassing a hot skeptical chick to liven up your work-station. You lily-liver.
. Displaying depths of hitherto-unknown hipness,
"Weird" Al Yankovic
has hired a number of very cool animators to create videos
for many of the original songs on his recently-released album,
Straight Outta Lynwood
: Bill Plimpton tackles
"Don't Download This Song"
, John Kricfalusi and Katie Rice accomplish the astonishingly unlikely and "sex up" Weird Al in the video for
"Close But No Cigar"
, and the kids behind Robot Chicken try their hand at
"Weasel Stomping Day"
. All of these videos (and more!) are available on the DualDisc edition of the album currently for sale on Amazon, along with a Dolby 5.1 mix of the entire album. Sweet, sweet parody never looked, or sounded, better.